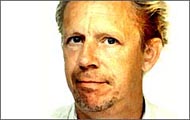 Zigge Holmgren
director & graphic illusionist
POST-ART
/ m a y d a y m e d i a

Norra Kyrkogatan 20 E
SE-621 55 Visby
SWEDEN

info@post-art.com
Phone: +46 (0)498-21 23 20
Cellphone: +46 (0)709-52 99 51



Org.nr: 530430-0295 VAT.nr: SE530430029501
Bank: Nordea Bank AB, SE-105 71 Stockholm, Sweden.
International Bank Account Number (IBAN) for mayday media (POST-ART): SE569500 0099 6034 0286 9972
SWIFT code: NDEASESS

GIFT CERTIFICATE



If you're not certain of the recipient's taste in art, or are simply running out of time, a gift certificate is the perfect choice. To your loved one, as a surprise for a friend, or as a reward to an employee. Contact us and we will send a beautiful and personal gift certificate with the desired amount.

If you are in a hurry you can make a direct payment with PayPal (see the order section) and we will swiftly send the gift certificate in an email to a desired address (PDF for print).

CONTACT US
Please don't hesitate to contact us if you have any questions about the order or anything else. We appreciate comments about the site. Here you can also subscribe to our newsletter.

OPEN HOUSE
You are always welcome to the POST-ART studio. We are open daily the year round. You'll find us close to the Cathedral in Visby (see map), Gotland, Sweden. Welcome!

GOOGLE KNOL
Your comments and rating is appreciated on Google Knol.


Zigge Holmgren, maestro and graphic illusionist at Post-Art, has in addition to fourteen years of working with digital media, studied art and photography and has over thirty years of experience in portrait painting in oil. He is a member of KRO (The Swedish Artist Organization).
Zigge has lately developed a new concept - "MUZAK ART" - designed to induce an urge for embellishment and to expand public spaces such as foyers, offices and waiting rooms. The pictures are intended to realize the inclination of the Nordic, almost ethnic rite, of bringing Nature into the home. The images depict fragments of nature from the Baltic island of Gotland, a piece of Swedish lyrical nature, reduced into patterns and combined with mural surfaces. The style is romantic and decorative with a longing for clarity of mind.



Muzak Art website
"A portrait lifts a person from the everyday life. It's a kind of magic... although magic was an everyday thing in the Renaissance era"...