Zigge Holmgren, artist and graphic illusionist at the POST-ART portrait studio...

... is a man with many faces... With his totally unique concept and technique he synthesises your photo with an old master portrait original of your choice from the Gallery and makes you historical!

Splendour is added to your features with digital brushes and a cautious hand and every effort is made to portray you with an honesty that the modern camera could never achieve... An exclusive gift for birthdays, weddings and other celebrations and for those who already have everything!


The portraits are printed using the Giclée Fine Art technique on high-quality artist's canvas and colorproof pigment color to ensure more than a life long enjoyment. After the signing of your new portrait it is varnished and patina is added which creates an unique art print, that is hard to distinguish from a genuine oil painting - a classical masterpiece, with your own expression... Easy ordering, delivery to your door. [more]
[showroom] [gallery]
[gift certificate] [informal art]



"Become the one you could have been!". Some examples of previous Post-Art portraits based on historical originals of customer's choice from the gallery synthesized with their photo submissions. Post-Art strives to make classical portraits not only available to privileged collectors, and now with your own expression...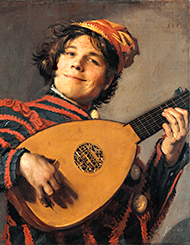 Post-Art Portrait of the Week
- MONICA & HARALD -


orig. by Grant Wood, PG1B
click to zoom



NEW ORIGINALS - become a great portrait as Lord Nelsson, Lincoln, Shakespeare, Washington, Beethoven, Mozart or Karl Marx....
---

EASY ORDERING
step-by-step
UPLOAD YOUR PHOTO




First find an original in the gallery that you want to use as a template for your portrait. Choose an original that appeals to you and suits your photo.


Then make the order with the order form where you also attach your photos of the person to be portrayed. Naturally you can also send an email or regular mail.


We encourage contact during the process and finally you'll receive a digital preview of the portrait, a suggestion for approval. We are not satisfied until you are.


We now print, varnish and send (free delivery) you the portrait after payment.


Payment is made easy with credit card with PayPal or by bank transfer. More details in the order section.