Varnished print-out on artist's canvas
1. 23x30 cm/9"x12" $350 or 300 €
2. 35x45 cm/14"x18" $470 or 400 €
3. 46x60 cm/18"x24" $600 or 500 €
4. 55x71 cm/22"x28" $700 or 600 €

The above prices (USD and €uro) include four layers of varnish, patination, freight and VAT and applies to 1 person portraits. An additional $80 or 60 €uro (VAT included) is charged for every extra person, Other sizes and framing by appointment.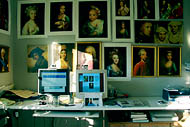 Some guidelines:
To ensure the best results, send several photos, avoid using small pictures or those with poor resolution. Try to match the angle of your photo with the painting you wish to become, but there are ways of compensate that in the computer. Photos will be returned to you with delivery.
Step by step instructions
1. Please fill out the order form or order by email, regular mail or telephone.

2. Attach photos of the person to be portrayed by using the order form's browse button or mail them to order@post-art.com or send by regular mail to POST-ART, Norra Kyrkogatan 20 E, SE-621 55 Visby, Sweden. Larger pictures may be transferred with SPREND to the above email address, or use our online support chat window.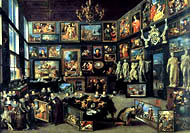 3. You will get a preview of the portrait for your approval before we print & ship it to you. The prints have an additional white border of at least 5 cm for the stretching.

4. Free freight world-wide with no additional cost. ("Cash On Delivery" is only possible for customers in Sweden. Other forms of payment see "Payment").
Alternatives by your choice
1. International payments with credit cards accepted via PayPal. Please press the VISA/Mastercard button for direct payment through PayPal, or the PayPal button for more information or contact us at order@post-art.se if further details are required. We may also invoice you through PayPal if that option feels more secure for you.


2. Bank transfer.
Please make your payment in advance in favour of Mayday Media to our account IBAN number: SE56 9500 0099 6034 0286 9972. SWIFT (BIC) code: NDEASESS. Bank: Nordea Bank AB, SE-105 71 Stockholm, Sweden.
Click here for bank
tranfers from USA
3. PlusGiro 28 69 97-2 (Postal Giro, Sweden only)
4. BankGiro 235-1476 (Bank Giro, Sweden only)

We will happily stay in contact
during the process. POST-ART always strives to accommodate your requests. Your wish is our desire - we are not satisfied until you are! If you would like us to suggest another portrait that would suit your personality better - don't hesitate to ask. Our big portrait archive ensures a good result.
best regards,

Zigge Holmgren
POST-ART


GIFT CERTIFICATE


If you're not certain of the recipient's taste in art,
or are simply running out of time, a gift certificate
is the perfect choice. To your loved one, as a
surprise for a friend, or as a reward to an employee.
Contact us and we will print a beautiful and personal
gift certificate with the desired amount. If you are in
a hurry you can make a direct payment with PayPal
and we will swiftly send the gift certificate in an email
to a desired address (PDF for print).